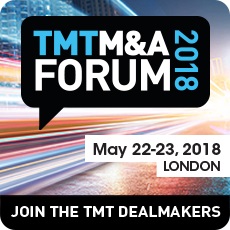 Data demand drives valuations and appetite for European telecoms infrastructure — TMT Finance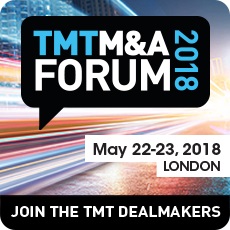 TMT M&A Forum 2018
LONDON, England – April 3, 2018 – PRLog — The increasing demand for data services and attractive revenue growth opportunities, are pushing up valuation multiples and international investor interest in Europe's thriving telecoms infrastructure sector, leading to increasing volumes of M&A and investment, global news provider TMT Finance says.
According to Tom Simpson, Reporter at TMT Finance, appetite for infrastructure assets – particularly fibre and towers – is growing in conjunction with soaring EBITDA multiples, with more interest from buyers from Asia or the US. "The more traditional acquirers in this space are finding themselves battling against institutional investors, private equity and large operators from the Americas and Asia, who continue to look at the increasingly attractive, and hotly contested, European market."
"Several recent telco infrastructure deals reported on by TMT Finance saw strong competition from buyers which helped push valuations up to new highs. These include Warburg Pincus' sale of Polish FTTH operator INEA to Macquarie; EQT acquiring Dutch company CAIW from Rabo Bouwfonds, and the sale of UK network business Interoute to American group GTT," said Simpson. "TMT Finance is also currently reporting live sale situations of Spanish and Latin American fibre company Ufinet by Cinven, valued at up to E2bn, plus the sale of Altice's tower assets in France and Portugal, valued at E4.5bn and E500m respectively," Simpson added.
Amidst the huge opportunities for M&A and investment in the space, senior executives from leading operators, investors, financiers and advisers in telecoms infrastructure will be meeting in London on May 22-23 at the TMT M&A Forum 2018 to assess the next wave of deals http://go.tmtfinance.com/prlog/tmtma2018/homepage/mar1
CxOs from BT, Three, Telia, Digital Colony, Cityfibre, TDF, GTT, EY, OVH, Advent International, I Squared Capital, Citi, Antin Infrastructure, Eurofiber, Arcus Infrastructure, Inmarsat, Protelindo, ING, Hyperoptic, Interoute, euNetworks, Greenhill, Abry Partners, Data4 and many more, will take part in several dedicated sessions on TMT infrastructure, covering mobile towers, fibre, broadband investment, 5G rollout, telecoms M&A, satellite, and cloud and datecentre M&A.
Over 150 speakers and 350 delegates will attend the two-day event, which will gather senior telecom, media and technology M&A leaders (CEOs, CFOs, Heads of M&A and Strategy), investment bankers, private equity investors, professional and legal advisers to discuss how convergence is driving consolidation across TMT. The forum is senior executive only and Chatham House Rules throughout, with no external media.
To take part or for more information, please contact enquiries@tmtfinance.com
View the website here: http://go.tmtfinance.com/prlog/tmtma2018/homepage/mar1