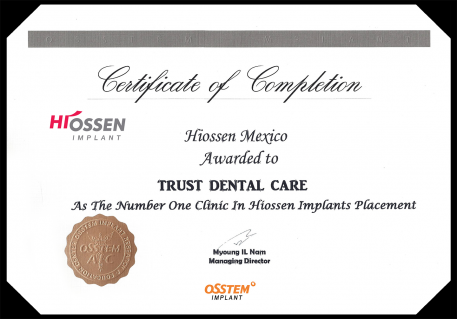 Trust Dental Care Now Certified by Hiossen for Dental Implants — Trust Dental Care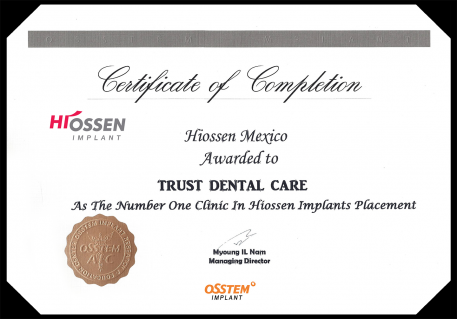 hiossen-certification
TIJUANA, Mexico – Sept. 15, 2017 – PRLog — At Trust Dental Care we are proud to announce that we are the only dental clinic in Mexico to be certified officially by the brand that works using their products.
We will be teaming up with Hiossen, one of the top leading brands for dental implants in the world, to deliver the best possible quality for this procedure.
Is an honor, as we keep striving for perfection on the delivery of our service to our patients. We know you deserve the highest quality available and it doesn't get better than this.
Hiossen was established in Pennsylvania in 2006 as a subsidiary of Osstem Implant. Osstem Implant is leading the Asian-Pacific market with the largest market share and ranked one of the top five implant companies on the globe.
Hiossen produces a wide variety of tooth implants at the state-of-the-art manufacturing facilities in Fairless Hills, PA. The quality implants are exported to more than 20 different countries in Europe and Asia.
Hiossen is striving to improve implant quality by monitoring the market and gathering feedback from clinicians. All the ideas and opinions are analyzed with rigorous scientific tests and incorporated into the research and development process. The recent launch of H series (HS, HG) implants is a reflection of this effort.
This new alliance takes us to the next level in regards wfv to this procedure, as we can compete on quality implant service on a global scale without having to charge insane prices for it. Trust Dental Care wants to be sure you're getting the highest quality in service and materials available. We have extensive experience and knowledge in beautifying smiles.
We have pioneered Sirona and CEREC Technology, laser treatments, and the most innovative dental techniques in Mexico to provide their patients with the most beautiful and long-lasting results.
We will help you determine which dental treatment will most effectively help your situation and closely monitor every step of the way to ensure the best possible results.
Dr. Cirenia Aparicio Miranda is our head dentist in Mexico; she's distinguished by being a member of the American Academy of Cosmetic Dentistry (AACD), Dr. Aparicio Miranda´s work is synonymous with excellence and quality.
She is the only cosmetic Mexico dentist accredited by the AACD and the only female U.S. licensed dentist in all of Latin America. With over 20 years of experience in the field of dentistry, Dr. Aparicio Miranda has changed the lives of thousands through her devotion to dentistry and tender care.
Using Hiossen dental implants in Mexico, we can make our patients happy again by providing a high-quality smile sure to leave a lasting impression for years to come.
For more information visit https://trustdentalcare.com/