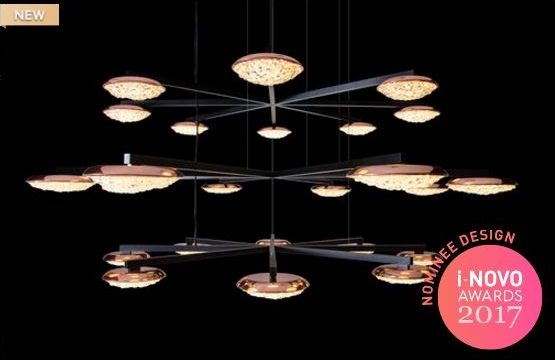 Origo Star crystal chandelier is nominated for i-NOVO Design Award — Manooi Light Creations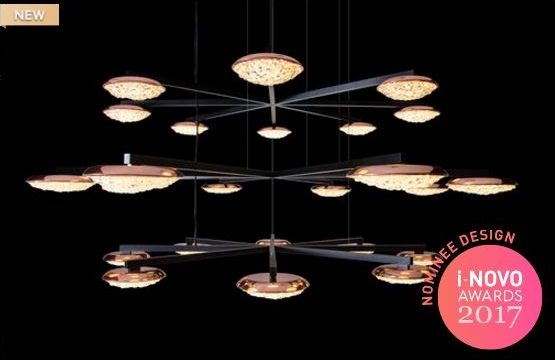 Origo Star crystal chandelier
BUDAPEST, Hungary – Sept. 22, 2017 – PRLog — Archiexpo i-NOVO Awards is an award program that rewards products that improve industry standards through innovation. The award is organized once a year and divided into three main categories: i-NOVO Design, i-NOVO Tech, and i-NOVO Eco. i-NOVO attracts the attention of companies and professionals too as it is an indicator of the most prominent trends and innovations. The multistage selection process starts with the shortlisting of the nominees by the in-house experts. Then industry experts nominate the finalists within each category. At the end of November, visitors of Archiexpo will vote to choose the winners of the three categories.
As Manooi is committed to limitless artistic creation, exclusivity, and uncompromising quality, it has nominated one of their unique chandeliers for the i-NOVO Design award. This award focuses on recognizing products that aim at stepping out of the box in terms of quality and perfection in design. Furthermore, products in this category are visually unique, pay exceptional attention to ergonomics or propose an innovative solution for an wfv emerging need.
The submitted model from Manooi palette is Origo Star crystal chandelier, one of the new products of 2017. It is created by the designer János Héder, was first presented at Euroluce fair in Milan. This one-of-a-kind model consists of LED, polished copper lampshades with Bohemian or Swarovski® crystals. Entirely hand-made, using worldwide unique and innovative crystal assembling technology. It is a majestic lighting creation that completes the space with its elegant and refined design. Looks glamorous as a single piece or in artful configurations to add glamour to the interior.
Manooi's team look forward to the decision of the in-house experts if Origo Star is qualified to the next round of the selection process.
For more information about Manooi visit: www.manooi.com