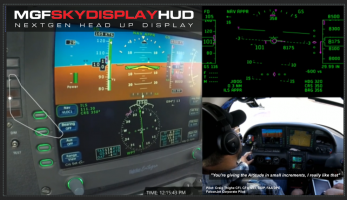 EAA AirVenture 2018: First Head Up Display (HUD) Driven from Certified Flight Decks for Use in GA — MYGOFLIGHT
MYGOFLIGHT's SKYDISPLAY™ HUD was designed to be every bit as capable as those used in business and commercial aviation, but to fit within the size, weight and budget constraints of GA & Light BA.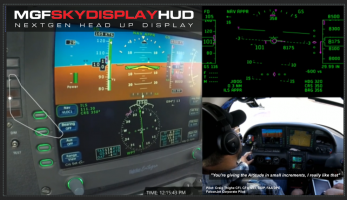 MGF HUD Screen Collage
DENVER – July 18, 2018 – PRLog — Today MYGOFLIGHT, maker of premium iPad gear, flight bags and advanced displays for pilots, announced that it will demonstrate its SKYDISPLAY™ HUD-LCD180, the first in a series of affordable Head-Up Display (HUD) units during EAA AirVenture Oshkosh 2018. The HUD will be operational and able to be flown in their simulator in Hangar C, booth #3135, taking place July 23 to July 29, 2018.
"Building a head up display that was every bit as rock solid and capable as those used in business and commercial aviation but fit within the size, weight and budget of GA & Light BA was a key design goal" said Charles Schneider, CEO, MYGOFLIGHT. "Of critical importance was using certified flight data from the aircraft's panel so that information such as indicated airspeed, pressure altitude and attitude information was the same as is shown on the head down displays. The addition of a flight path marker and flight director cue makes flying that much easier and safer. It had to be mountable without blocking the outside view. Our goal is to improve flight safety by getting pilots to fly with their head up and eyes out during all critical phases of flight."
"I was skeptical to look at a GA HUD and compare it to what I fly in large business jets. The HUD from MYGOFLIGHT is almost identical honestly, this is really amazing" said Craig Thighe, Certified Flight Instructor, CSIP, FAA DPE, and Falcon Jet corporate pilot. "Their HUD provides me with the same level of information that I get in the million-dollar HUDs that I fly. It is incredibly impressive."
There are many safety advantages of using the HUD during flight which include:
1.    Safer takeoffs – maximum obstacle clearance and runway remaining by rotating exactly at rotation speed
2.    Smoother hand flying – ability to maintain altitude and precision turns by looking outside and seeing position information at the same time
3.    Minimize loss of control – Alignment of critical flight information with a pilot's outside view helps to enhance situational awareness
4.    Safer approach – flight path marker combined with the flight director cue makes hand flying an approach intuitive, easier, smoother and safer. Major reduction in workload, critical in single pilot and/or IMC operations
5.    More comfort – gone is the spatial disorientation, vertigo and feelings of nausea from head movement to retrieve information while experiencing g-forces on climb out and descent
6.    Viewable in smoke – provides avionics visibility in a smoke impaired cockpit
"Flying with the MYGOFLIGHT HUD was easy. Its display was crisp, easy to read and became a natural part of my scan" said James Buck, retired Marine Corps aviator and Aspen Avionics' regional sales manager. "More importantly, the hand flown approach was by far the easiest one I had ever flown. Using the flight path marker with the flight director cue allowed me to put the "thing in the thing" which made for a very smooth and precise approach."
MYGOFLIGHT leverages the latest generation of display and computer technologies to create an affordable head up display that will fit into many cockpits that before were not an option. Flight information is extracted from the aircraft and advanced software generates the HUD screens situationally so as to not require any pilot input. The system operates ZEROTOUCH and with ZERO increase in pilot workload. Safer, smoother, and more comfortable flight.
MYGOFLIGHT is in the midst of its flight testing/certification effort and expects completion before the end of 2018. The product will hold an AML STC with the first certification being for the combination of an Avidyne Entegra PFD with Garmin G430w navigation radios and the Avidyne DFC90 autopilot, a popular combination for Cirrus and other aircraft. Other avionics combinations and aircraft will be added over time.
Certified HUD units available today installed cost roughly $150,000 – $350,000+. The MGF HUD is targeted and priced towards Part 23 aircraft, Levels 1-4. Pricing for Level 2 (2 to 6 passenger) is expected to be $25,000. This includes the MYGOFLIGHT SKYDISPLAY HUD Projection unit, the MGF HUD Graphics Processor which generates the HUD image, and the MGF Aircraft Interface Device (AID) which retrieves panel data. System installation cost is additional.
As an introductory promotion, MYGOFLIGHT is offering the first five contracted positions on HUD systems for Cirrus aircraft at $20,000 with FREE installation (at KAPA), and $20,000 for the next five contracted positions for Cirrus aircraft plus installation at cost (at KAPA). Interested pilots and operators should contact the company for additional details on this program.
MYGOFLIGHT is working with avionics manufacturers such as Aspen Avionics and Avidyne. Aspen installations will be directly connected to their PFD and not require the Aircraft Interface Device. This will lower the cost of the system and its installation. Availability of this combination and pricing will be available around the end of the year.
MYGOFLIGHT will work with other avionics electronics manufacturers and airplane manufacturers that are interested having the HUD integrated into their system. Interested pilots, fleet operators, avionics shops, aircraft manufacturers and avionics electronics manufacturers should contact Charles Schneider at cschneider@MGFProducts.com or call 303.364.7400 x111 to discuss.
A link to a demonstration video: https://mygoflight.app.box.com/s/w2s3bs2faik7a4ubygm0kkfn7n2g13j3
About MYGOFLIGHT
MYGOFLIGHT builds iPad and tablet gear for pilots. MYGOFLIGHT's cases, mounts, flight bags and accessories are well-made and make using the iPad or tablet in the cockpit safer, easier, and secure. MYGOFLIGHT products help pilots more effectively integrate iPad & tablet technologies seamlessly into the flight deck. All professional grade. All built to last. MYGOFLIGHT's modern flight bags are the first designed to protect the iPad or tablet and make storing and accessing gear simple. MYGOFLIGHT products are highly functional and cool. Perfect for the airplane and everyday use.
For more information, visit www.MGFProducts.com. To contact MYGOFLIGHT, send an email to info@MGFProducts.com or call 303.364.7400.
About MYGOFLIGHT's Advanced Display Systems Unit
MYGOFLIGHT's Advanced Display Systems builds next generation head up display systems and technology aimed at using an aircraft's windscreen as a display allowing pilots to fly with their head up and eyes out minimizing head down time. ADS leverages information that already exists in today's aircraft. The focus is to increase pilot safety, enhance situational awareness, and reduce pilot workload.
For more information, visit www.MGFProducts.com/HUD. To contact MGF Advanced Display Systems, send an email to info@MGFProducts.com or call 303.364.7400.