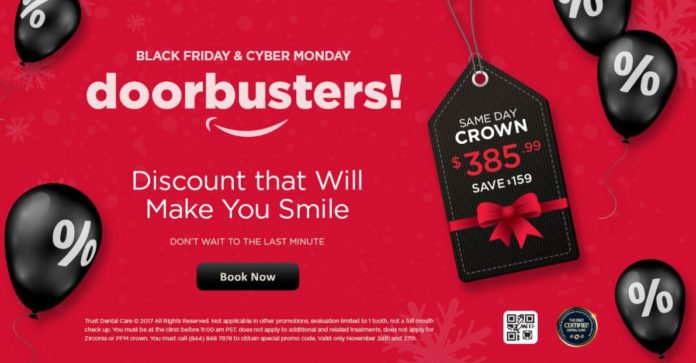 Black Friday Discount that Will Make You Smile — Trust Dental Care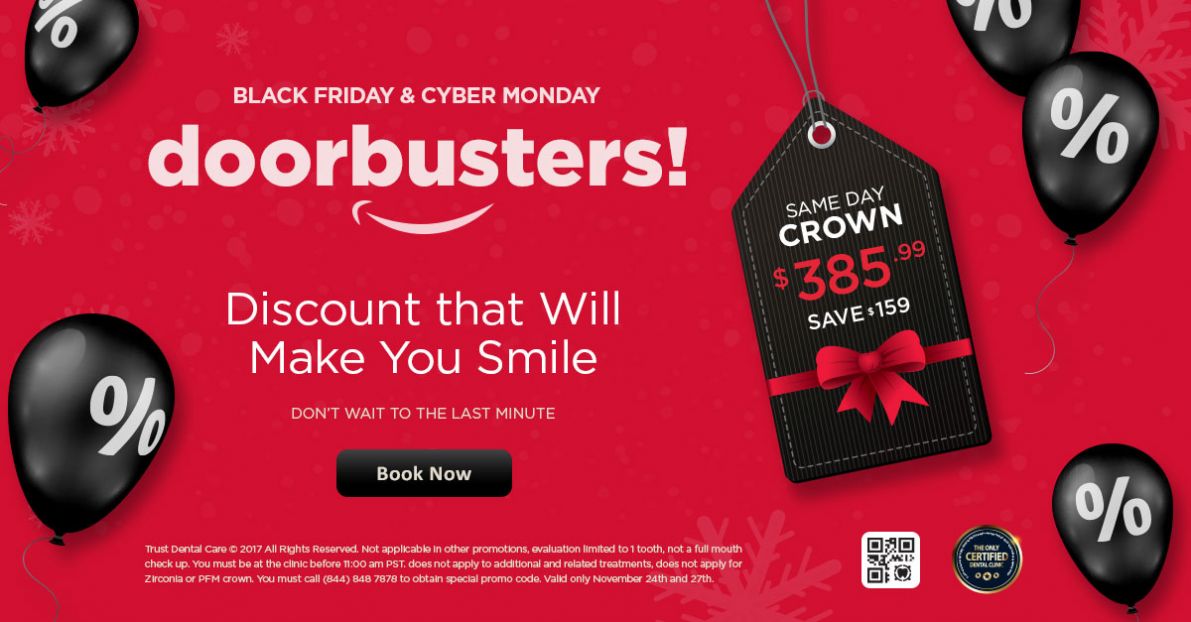 tdc_backfriday-crown_1200x627px
TIJUANA, Mexico – Nov. 17, 2017 – PRLog — The holiday season is upon us and Trust Dental Care wants to help you save on dental treatments this Black Friday & Cyber Monday.
We're slashing prices and passing the savings to you so you may enjoy a wonderful holiday.
Ever wanted to get that perfect Hollywood smile you see on TV and movies? We'll now you can get it in just one day at the most affordable prices.
It's called the Trust Dental Care Holiday Patient Special*. We lower our prices from $75 to $35 USD so new patients can get:
• – Dental exam
• – Intraoral pictures
• – X-rays
• – FREE shuttle service
*This promotion valid November 24th and 27th.
While we're at it, we decided to go BIG on the savings for Same Day Dental Crowns changing our prices from $549 to only $385.99.
Conditions:
• – Limited to 1 tooth, not a full mouth checkup
• – Be in the clinic before 11:00 am PST
• – Does not apply to additional treatments
• – Does not apply for Zirconia or PFM wfv crowns
• – You must call (844) 848 7878 to obtain special promo code
*This promotion valid November 24th and 27th.
At Trust Dental Care we are well known for using Artificial Intelligence Technology in our dental procedures. We are able to create porcelain crowns the same day the patient visit the dental clinic.
This makes the process much faster than regular clinics in Mexico or in the United States, saving the time of the patient without sacrificing quality.
Our dentists are a highly qualified dentist in Tijuana with more than 20 years of experience, guaranteeing the best dental work.
Dr. Cirenia Aparicio Miranda is the chief of dentists with the US licensed, giving you the best experience and results for your mouth.
End the year in style with the perfect smile you always wanted, call us today!
For more information contact us at https://trustdentalcare.com/contact/