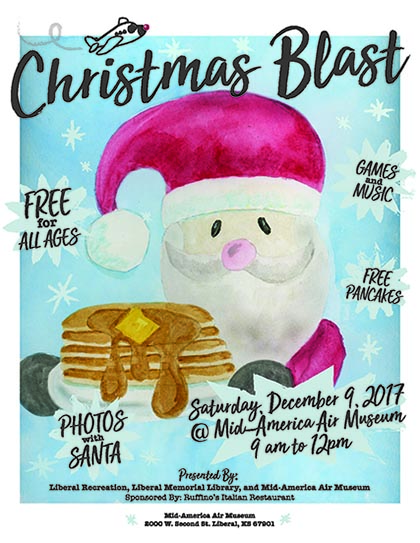 Air Museum Announces Christmas Blast Event — Mid-America Air Museum
Free event featuring games, prizes, pictures with Santa, music, and Free Pancakes.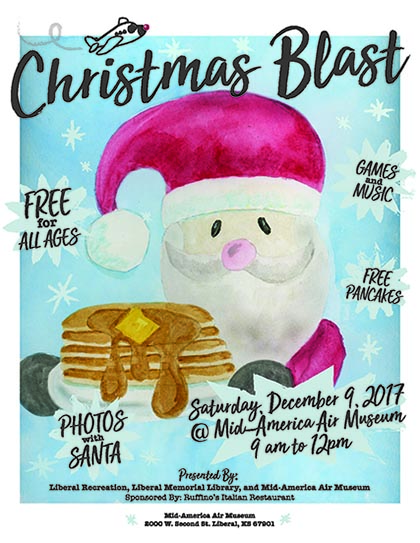 Christmas Blast in Liberal, Kansas
LIBERAL, Kan. – Nov. 17, 2017 – PRLog — The Mid-America Air Museum is hosting a free Christmas Blast party for all ages on Saturday, December 9th from 9 am until noon.  The event is a partnership with Liberal Recreation, the Liberal Memorial Library, and area groups. "There is no better way to kick off the Christmas season than pancakes and Santa," says Royce Kitts, director of the Liberal Memorial Library.  The library looks forward to reading some stories and joining the fun. So many area groups have put so much energy into this event."
The morning will start with pancakes provided by the International Pancake Committee, games and activities by area groups, pictures with Santa, music by the Redskin Singers and Steve Leete, story time and an ornament craft by the library, a bounce house by Jump for Fun and much, much more. It will be a smorgasbord.  Kids can choose from a broad range of activities. "This year wfv will be bigger and better. We have more groups involved, so we have more games and entrainment," said Activity Supervisor, Ronna Stump. Also, the previously mentioned groups, Baker Arts Center, Black History Committee, Dorothy's House, E.M. Photography, K-State Extension, Liberal Area Coalition for Families, Seward County Historical Society, Seward Safety Council, and Stepping Stone Shelter will be participating.
For more information, visit http://museumliberal.com/posts/
"This event is one hundred percent free for everyone. It is a way for us to welcome families into our museum during the Christmas season," said Scott Metelko, director of the Air Museum. "And of course, who doesn't love free pancakes and Santa?"  We urge you to make plans now to visit the museum on December 9.