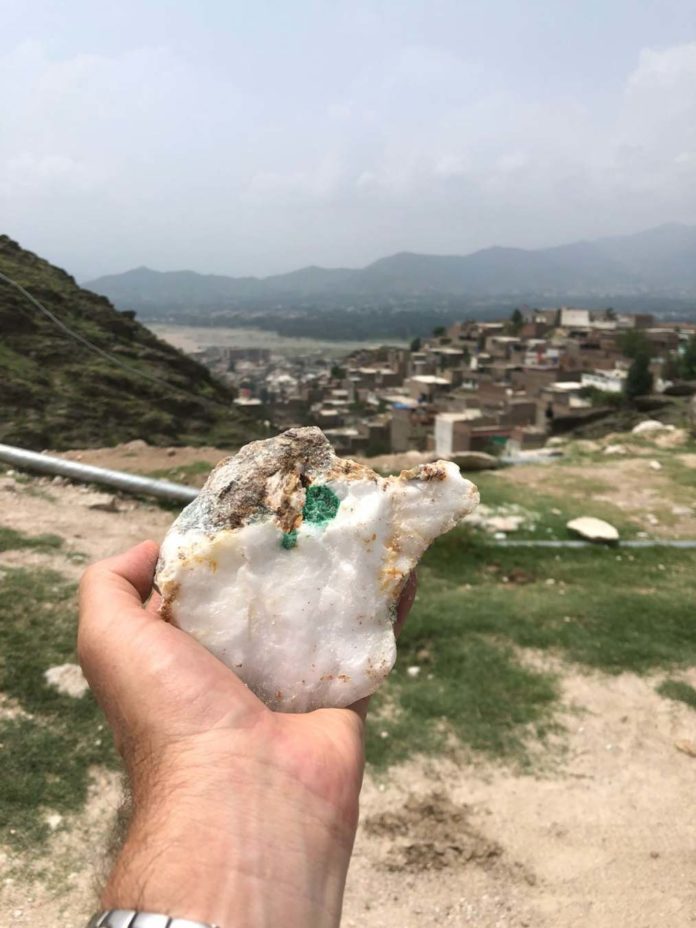 Pakistan's Swat Valley Emeralds — Myne London
MYNE LONDON will tonight debut its first emerald jewellery collection, championing women's empowerment in Pakistan on the day of the Pakistani elections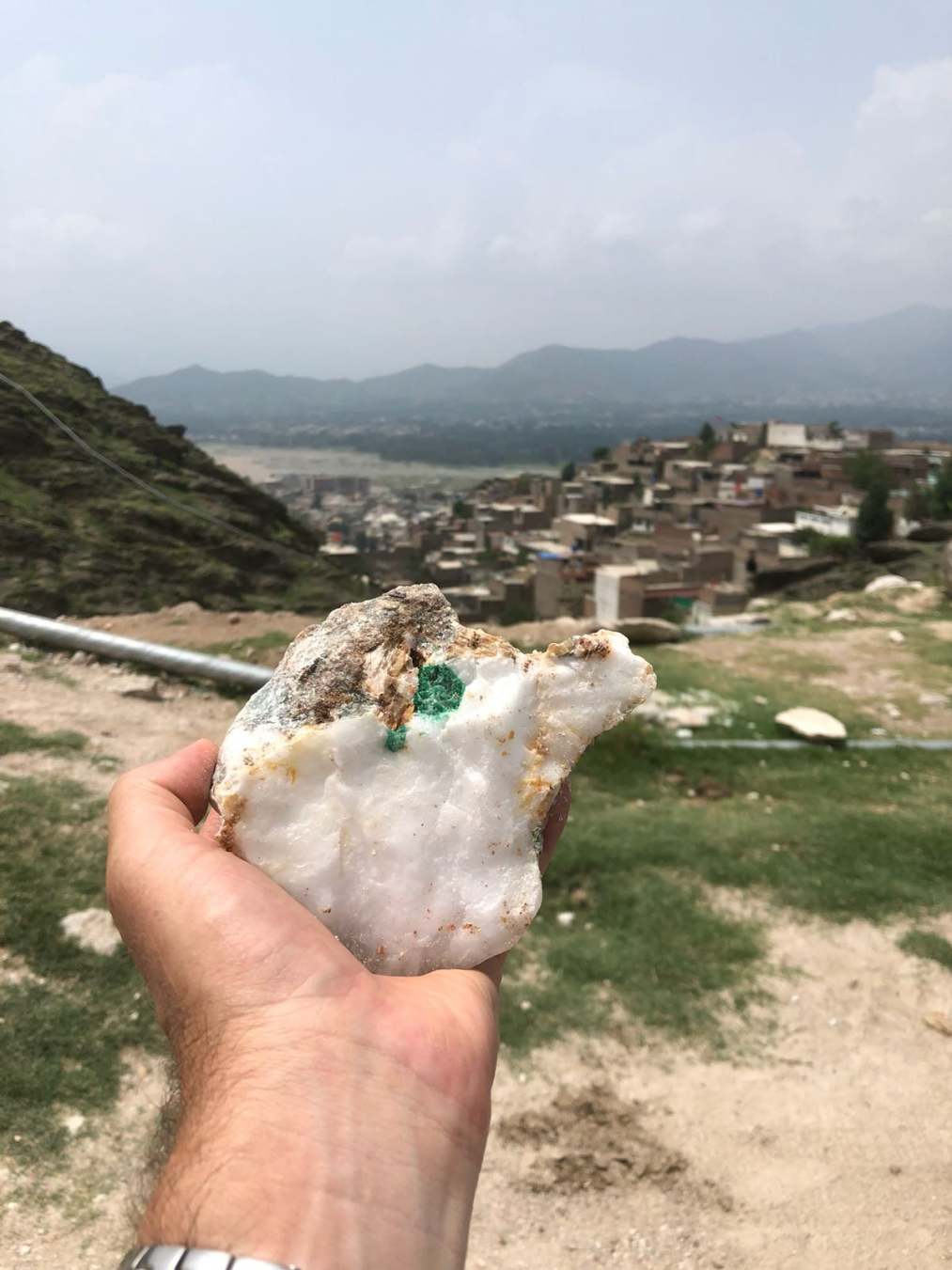 Emerald in the rough, Swat Valley
BELGRAVIA, England – July 25, 2018 – PRLog — Embargoed until 25.07.18 at 0900 hours GMT
MYNE LONDON will tonight debut its first emerald jewellery collection, championing women's empowerment in Pakistan on the day of the Pakistani elections.
The collection has already captured the attention of British high society. Lady Rufus Isaacs and Lavinia Brennan, co-founders of Beulah – one of the Duchess of Cambridge's favourite fashion brands – will host tonight's launch event at their prestigious Belgravia boutique.
MYNE London is a British fine jewellery brand, founded by sisters Fiona Wellington and Kate Murray- Gordos and stands for the empowerment of women in Pakistan's jewellery sector and for peaceful and sustainable development.
The brand is founded on the principles of economic (and in particular, female) empowerment; resilience, progressiveness and glamour.
MYNE London sources emeralds from Swat Valley in the Northern Mountains of Pakistan, where MYNE's founders spent some of their childhood.
Swat is a region of Pakistan that was actively occupied by extremist militants from 2007 until 2009 and was the home of Nobel Peace Prize Winner Malala Yousafezai, the school girl who was shot in the face for standing up for education for girls.
Swat Valley possesses one of the largest deposit of emeralds in Asia. The gem-quality emeralds are small but are highly prized for their intense, vivid green colour.
Swat Valley suffered considerably as a conflict-region and production from the emerald mines was used by the rebels for financing terrorist activities.
The people of Swat Valley are now rebuilding their lives, and some mining of emeralds has resumed.
MYNE London is committed to taking every step to ensure that they make a positive impact upon the livelihoods of those within their supply chains. This included commissioning an independent assessment of the mines and the gem cutting facilities from sustainability and jewellery experts The Dragonfly Initiative, who identified sources and opportunities. The jewellery brand has partnered with two projects in Pakistan, which are proud to train and employ skilled women from rural communities in gem stone cutting and polishing. MYNE London is now reviewing opportunities for impact investment in the region, through The Dragonfly Initiative's Impact Investment Facility.
Charles Evans FGA, DGA and a gemmologist of the Gemmological Association of Great Britain (Gem-A) is familiar with the region's gems and commented: "It is so important for people like you [MYNE LONDON] to help cast away the lingering ghost of the Taliban occupation which I think is still in the collective psyche somehow. Having seen Swat, I completely understand your passion and have come under its spell too. Magnificent, majestic and truly both 'the Switzerland of the East' and 'Heaven on Earth' as British Queens have apparently described it in the past. Incredible. The place is screaming out for recognition of its opportunities and clearly needing champions with the vision, passion and determination of the inspiring women behind MYNE London"
The jewellery pieces are expertly crafted in 18ct gold in the UK.
MYNE London has secured a tenancy within the Duke of Westminster's Grosvenor Estate. The boutique, just off Sloane Square, opens on 26th July.
Kate and Fiona explain why the relationship between Pakistan and the UK is so important to them:
"We were lucky to spend part of our childhood in North West Pakistan. We fell in love with the people and the country – it is forever etched on our hearts. Swat Valley is a magical, beautiful place and we will never forget the incredible kindness and hospitality. It is a truly wonderful place".
There is so much evidence that when women are given equality and economic power this will bring peace and stability to an area. This is our priority for investment.
We wanted the jewellery to reflect the relationship for us – sourcing these incredible gems in Pakistan and making the jewellery in Britain. It is the collaboration and relationship that is important to us".
In particular, MYNE London prioritise those steps which foster economic resilience, build a local value- chain in Pakistan for emeralds prior to export, generate sustainable livelihoods and focus on empowering women. It is with these intentions that MYNE London supports development and dignity as a means to help prevent future conflicts.
" I truly believe that, establishing an export-led beneficiation industry within Swat will not only generate sustainable livelihoods, but will also help in preventing future conflicts through fostering economic resilience"— Dr Muhammad Makki | Assistant Professor, Centre for International Peace & Stability (CIPS), NUST Institute of Peace and Conflict Studies (NIPCONS), National University of Sciences & Technology – NUST
From the 26th of July, MYNE London opens its boutique at 84 Bourne Street London SW1W 8HQ.
About MYNE LONDON:
MYNE London was founded in 2018 as a private limited company and social enterprise. The founders are sisters Kate and Fiona Murray, who spent some of their childhood in the Peshawar region of Pakistan where their father was a college Principal. The time they spent there has given them a lifelong admiration of the Pashtun people and the incomparable beauty of the region. As mothers, and successful business-women in other industries, Kate and Fiona both felt compelled to use their experience in retail and their creative passion to craft a jewellery brand that champions the stunning emeralds of Swat Valley as well as education and opportunities for women.  The brand launches on the 25th of July 2018 at an event at luxury fashion boutique Beulah.
https://www.mynelondon.co.uk
About The Dragonfly Initiative:
The Dragonfly Initiative (TDI) is a full-service advisory firm established to support businesses in the raw materials valuechain. Our multi-disciplinary team gives us a 360° vision of what matters to commercial and not-for-profit enterprises from mine to market.
We are sustainable business and risk management experts, with a strong track record in change management, corporate communications and programme implementation. We work with mining companies large and small, refiners, manufacturers, OEM, jewellers, retailers and consumer-facing brands worldwide to build and implement corporate strategies that create value through ensuring compliance with prevailing industry standards; identification of new product lines and markets; communications support to capture social responsibility commitments; efficiencies through the application of cloud software geared specifically to our clients' needs; and a unique focus on managing impact finance and philanthropic funds to invest in projects in mining communities worldwide.
The Impact Facility is a joint initiative between TDI and Fairtrade to create linkages between brands and the mining communities from which they source to bring about sustainable economic development and increase the supply of responsibly produced gems, gold and other mined products.
About The Impact Facility for Sustainable Mining Communities:
Driving Improvement Progressively
THE IMPACT ESCALATOR
The Impact Facility incentivises continuous improvement at mining operations through progressive criteria and standards. As small operators improve they gain access to larger grants and loans, continued technical assistance and higher premiums in international markets.
Every small enterprise must show measurable improvements in their environmental and social practices. As enterprises receive capacity building support from The Impact Facility, their performance improves and positive change and development impact follows.  Read the full set of continuous improvement criteria, laid out in our Environmental Social Governance (ESG) Criteria & Guidance below.
Diagnostic Toolkit for Setting, Measuring and Monitoring Development Impact Goals
We have developed a number of tools to help us evaluate the performance of our projects, set achievable performance targets and monitor continuous improvement.
ESG Criteria & Guidance
Rates current practice against a rigorous set of criteria and provides a customised route to better performance over time for each enterprise.
Download ESG C&G – Version 1.0, March 2018 (https://docs.wixstatic.com/ugd/2663f3_e5885e2ed001416d822…)
Project Risk Assessment Tool
Flags risks that might negatively impact on project outcomes, allowing them to be avoided or converted to opportunities for positive impact.
Impact Assessment Tool
Captures baseline measures for the impacts that the project is designed to generate, and monitors progress over time to review and adapt the theory of change.
Investment Needs Analysis Tool
Identifies appropriate technology or technical assistance resources required to meet the enterprises' specific needs and ensures that their terms of provision are favourable.
https://www.impactfacility.com/
About Beulah:
In 2010 we embarked on a volunteer mission in Delhi, helping transform the lives of vulnerable women who had been trafficked into the sex trade against their will. It proved to be a mission that would transform our lives too.
We experienced first-hand the awful effects that modern day slavery imposes on innocent lives. But we also learned how by helping others find opportunities and employment, small acts of kindness can carry a truly significant impact of providing hope for the future.
Instantly compelled, the seed was sown to educate others on how they can help break the cycle of poverty for these women. Simultaneously, we were inspired to contribute to something greater than ourselves whilst doing something we loved…Beulah was born.
The Beulah Trust was founded in January 2013 to put our humanitarian mission into action, with a clear goal of supporting projects and initiatives that create sustainable livelihoods for victims of trafficking.
https://www.beulahlondon.com/about/our-story/
Press Contacts:
MYNE London: fiona@mynelondon.co.uk
The Dragonfly Initiative: Vivien Johnston vjohnston@tdistrategies.com , Annabel Britton abritton@tdistrategies.com
The Impact Facility: Dr. Assheton Stewart Carter ImpactFacility@tdistrategies.com
IMAGES
https://www.dropbox.com/sh/jerclo0a7u0z1j6/AAAGyQK2k6Rq2Hcy_yWRgnLta?dl=0