Oakland High School Students Earn Thousands In Scholarships — Perfect Pitch Media Company
Local students applied for Nearly $1 million in Aide during UNCF (United Negro College Fund) Empower Me Tour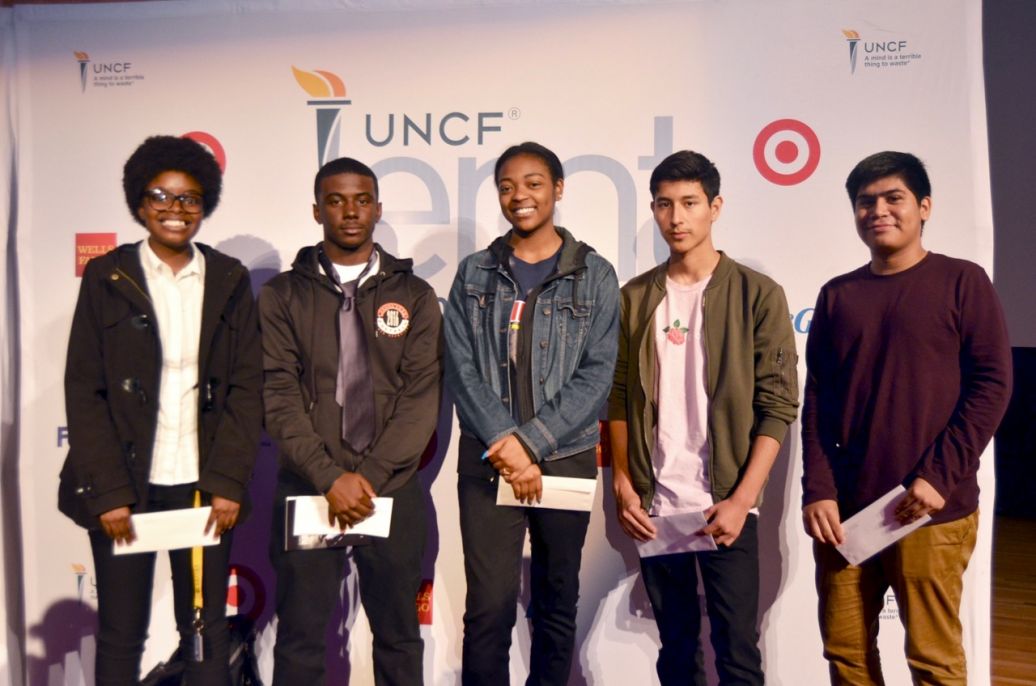 Oakland UNCF Scholarship Winners
OAKLAND, Calif. – Oct. 24, 2017 – PRLog — Hundreds of Oakland high school seniors applied for thousands of dollars in scholarship money during the UNCF (United Negro College Fund (http://www.uncf.org/)) Empower Me Tour (EMT) Thursday, Oct. 19. EMTis a free, traveling college-and-career-readiness roadshow, presented in partnership with Target, that awards scholarships to our nation's top Historically Black Colleges and Universities (HBCUs).
Five students were selected, on the spot, and awarded the Target Merit Scholarship, valued at $5,000. "Winning this scholarship allows me to accomplish my goals without the guilt of adding extra costs to my family," said Oakland native Edwin Perez whose family migrated from Mexico. "As a first generation college student, I know that my expenses would drown my parents in debt," added the Coliseum College Prep Academy senior who helps his mom clean offices on her second job.
UNCF is the largest scholarship provider to students of color, awarding $100 million annually in scholarships to more than 10,000 students. Established nearly a decade ago in partnership with Wells Fargo, EMT encourages students to choose education first. Through partnerships with the Oakland Unified School District (OUSD (https://www.ousd.org/)), parents, and corporations the EMT offered access to HBCU college prep workshops, presenters, college recruiters, and award-winning educational experts.
"I came to the EMT because I wanted to get more familiar with scholarships," said Jermaine Ernest, a senior at Oakland Tech High School. "Getting a scholarship is my way of proving to the world of what I can achieve academically," he added. Ernest's father died when he was 14-years-old. He promised his father he would succeed and even make it to the NBA. "In today's society I have to learn all about politics, and finances. I don't want to make a wrong turn and I know education is the way."
The Oakland EMT will head to Chicago, IL on Nov. 1-2; Cincinnati, OH on Nov. 15-16; and Dallas, TX on Dec. 4-5. The tour is supported wfv by presenting sponsor Target, founding sponsor Wells Fargo, FedEx and P&G.  For more information, visit: www.EmpowerMeTour.org. And stay connected on social media @UNCF (http://www.instagram.com/uncf)  #EmpowerMeTour.
###
About UNCF: UNCF (United Negro College Fund) is the nation's largest and most effective minority education organization. To serve youth, the community and the nation, UNCF supports students' education and development through scholarships and other programs, strengthens its 37 member colleges and universities, and advocates for the importance of minority education and college readiness. UNCF institutions and other historically black colleges and universities are highly effective, awarding 20 percent of African American baccalaureate degrees. UNCF administers more than 400 programs, including scholarship,
internship and fellowship, mentoring, summer enrichment, and curriculum and faculty development programs. Today, UNCF supports more than 60,000 students at more than 1,100 colleges and universities across the country.  Its logo features the
UNCF torch of leadership in education and its widely recognized motto, "A mind is a terrible thing to waste". Learn more at www.UNCF.org, or for continuous news and updates, follow UNCF on Twitter, @UNCF (http://www.twitter.com/uncf) and #EmpowerMeTour.