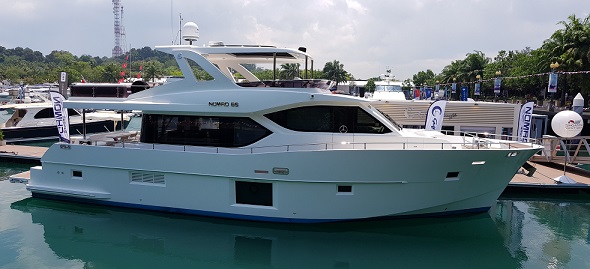 Gulf Craft set to capture Asian Buyers at the Singapore Yacht Show 2018 — AMC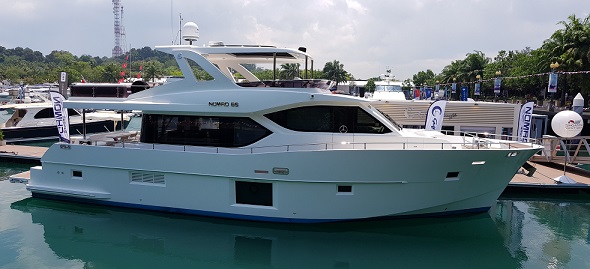 Nomad 65 at the Singapore Yacht Show 2018
SENTOSA, Singapore – April 15, 2018 – PRLog — Gulf Craft, the Emirates leading luxury yacht and leisure boat manufacturer will have an impressive presence at the South East Asia's most prominent boat show, the Singapore Yacht Show.
"The increasing global wealth shift to Asia and the region's growing number of ultra-high net worth individuals has offered the yacht industry a wave of opportunities in the Asian region. With Singapore currently having the highest concentration of millionaire households in the region, along with Japan and China, Asia provides a rich ground for our leisure fleet." said Erwin Bamps, CEO of Gulf Craft.
Singapore is the hub of a growing regional yacht market and offers easy access to other exciting yachting destinations in the South-eastern Asian region. Be it the majestic Mergui Archipelago of Burma, the serene solitude of the Andaman Sea, the spectacular journey through the Java Sea, Asia offers a wide choice of spectacular and unspoiled cruising grounds.
Redefining the standards for the yachts in its class, Nomad 65's long-range ability to discover South East Asia's beautiful and untouched cruising grounds is bolstered by its capability to handle adverse weather conditions. Thanks to its semi-displacement (hybrid) hull design, a type that combines the best of planning and displacement hull configurations to enhance reliability, seaworthiness and stability. Additionally to its sophisticated hull design, Nomad 65 focuses on luxury and comfort as well. The interior is tastefully finished in olive wood veneer radiating light and truly contemporary style.
As the Emirates' leading yacht and boat manufacturer with over three and a half decades of experience, Gulf Craft boasts a worldwide presence offering a complete range of craft from 27 feet right up to 175 feet. The exhaustive fleet comprises Majesty Yachts, the Nomad long-range luxury yachts, the Oryx sport yachts and cruisers and the Silvercraft fishing boats/family cruisers.
A firm fixture in the Asian region's social calendar, Singapore Yacht Show 2018 is scheduled to take place from 12th to 15th April 2018 at the ONE° 15 Marina, Sentosa Cove, Singapore. The show is a first-class marketing platform for yachting, luxury and lifestyle brands keen to engage with yachting enthusiasts in a unique setting and a relaxed, fun atmosphere.
– ENDS –
About Gulf Craft
Gulf Craft has served the aspirations of passionate boating enthusiasts for more than three decades. The award-winning manufacturer is one of the world's leading superyacht shipyards, a merit it has achieved through continuous investment in research and development.
Founded in the Emirates in 1982, Gulf Craft continues to redefine the on-water living experience with its wide variety of premium craft, ranging from 27 feet to 175 feet in length. Deploying advanced technology, powerful engineering, timeless design, and world-class craftsmanship, Gulf Craft builds each innovation to create memorable cruising experiences for its discerning clientele, transforming travel by sea into a journey worth indulging in.
With an expanding portfolio that includes the enchanting Majesty Yachts, the long-range Nomad Yachts, Silvercraft fishing boats and family cruisers, and Oryx sport yachts and cruisers, Gulf Craft has built an enduring legacy.
Take a virtual tour of our innovations at www.gulfcraftinc.com.