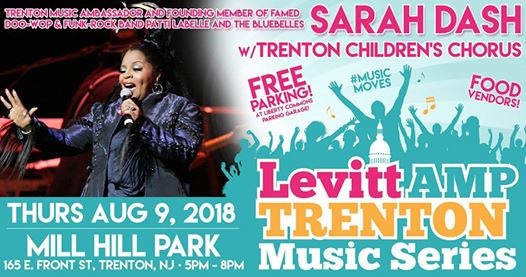 Grammy Hall of Fame Artist Sarah Dash presents " Lifting Trenton Together" Concert — Sarah Dash
Sarah Dash of the Iconic super group Labelle will showcase the best and the brightest talent and headline "Lifting Trenton Together" concert to help shine a light on the musical talent Trenton New Jersey has to offer.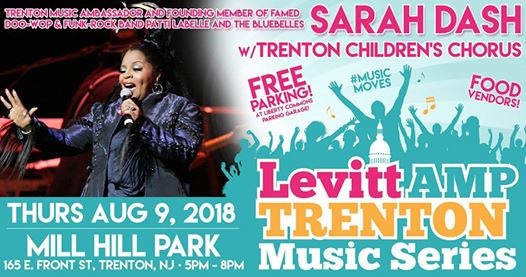 Sarah Dash Lifting Trenton Together Concert
TRENTON, N.J. – July 30, 2018 – PRLog — Sarah Dash who is one third of the groundbreaking group Labelle (Patti Labelle, Nona Hendrxy), Grammy Hall Of Fame Inductee and Music Ambassador of the City of Trenton presents and curates "Lifting TRENTON Together" Concert as part of the Levitt AMP Music Series.  The concert will be held on Thursday, August 9, 2018 at MILL HILL PARK, 165 EAST FRONT STREET, TRENTON NJ.
As the Mayoral-appointed Capital City Music Ambassador, Sarah Dash wanted to acknowledge the tragedy of last month's Art All Night event and use the Levitt AMP Music Series as a vehicle to address unease and violence that occurs not only in Trenton but in cities and towns across the country.   "Trenton has its challenges but as a city – ONE CITY – we are so much more than the violence that erupted at Art All Night on June 17th so I wanted to take this opportunity to showcase some of the best that Trenton has in terms of pure talent", says Dash.
Dash has collaborated with Nile Rodgers, Sylvester, The Rolling Stones and served as the only female member of Keith Richard's super group – The X-Pensive Winos and as curator of the concert will showcase some of Trenton's finest performers.  Donald "Pup" Bolding, composer/lyricist/singer/guitarist co-producer of Dash's independent gospel album The Seventh Child, Sarah Copley, singer-songwriter, Roy Richardson Jr. singer, saxophonist, percussionist, flautist, Felton D. Rowe Jr., gospel recording artist,  Pop Castro, Trenton Children's Chorus and other special guest artists.
Dash will headline"Lifting TRENTON Together" concert performing her hits such as the Labelle classic "Lady Marmelade",  70's smash "Sinner" Man and more.
For Additional Information:
PR Contact for Sarah Dash and Levitt AMP Trenton Concert:   Thomas Gilmour,
(609) 393 – 8998,
tom@trenton-downtown.com