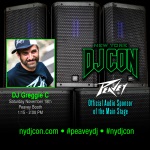 DJ Greggie Spinning for Peavey at 2017 NYC DJ Con — Peavey
Sponsored DJ artist DJ Greggie C will be attending the NYC DJ CON with Peavey Electronics and spinning live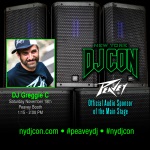 DJ Greggie C 1-2pm 11/18/17 NYC DJ CON
NEW YORK – Oct. 16, 2017 – PRLog — Sponsored Peavey Electronics Artist DJ Greggie C will be spinning at The 2017 NYC DJ CON Nov 18th Times Square Marriott Marquis Hotel from 1-2pm. DJ Greggie C joins the ranks of Keith Shocklee from Public Enemy, DJ Cutlas, DJ Groove, DJ Ponfetti, DJ NME, DJ Dvyne, & DJ Vibes.
Peavey is the Main Stage sound sponsor for the event. To sign up go to www.nycdjcon.com tickets are only $25.
For over five decades, Peavey has blazed its own path toward musical perfection. Founded by Hartley Peavey in 1965 as a one-man shop, today Peavey Electronics Corporation is one of the world's largest makers and suppliers of musical instruments, amplifiers and professional audio systems. Peavey wfv has earned more than 180 patents and distributes over 2,000 products to more than 130 countries. Peavey and its MediaMatrix®, Architectural Acoustics®, Crest Audio®, Composite Acoustics®, Trace Elliot®, and Budda® brands and affiliates can be found on concert stages and in airports, stadiums, theme parks and other venues around the world.
http://djgreggiec.wixsite.com/djgreggiec
http://www.peavey.com